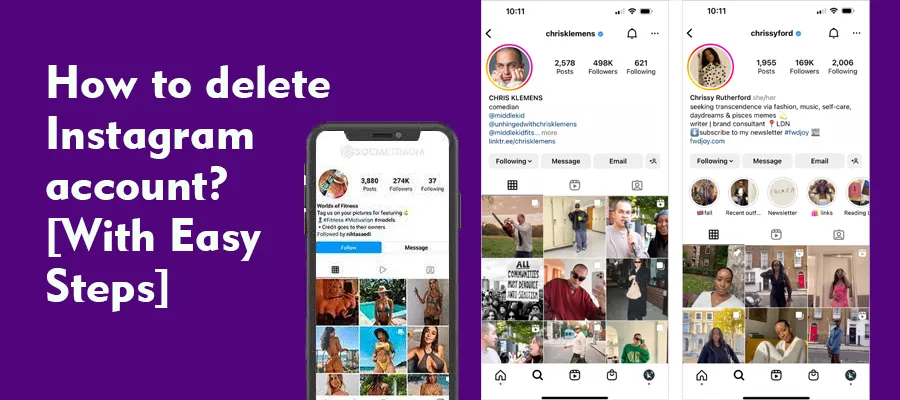 How To Delete Instagram Account? [With Easy Steps]
Are you unable how to delete Instagram account? If yes, don't worry; keep reading the blog and follow the steps for account deletion. However, account deletion is possible on iOS or Android devices, web, etc.
Hit Personal Details and then Account Ownership and Control. Then, press Deactivation or deletion and hit on the account you want to delete permanently. Press the Delete account button and then Continue. 
If you delete your account, your comments, likes, followers, profile, videos, and photos will be removed permanently. Thus, it's advised that you can deactivate your account temporarily if you want to take a break.
After following the above steps, if you are unable to delete your Instagram account you can contact Instagram customer support team at: 1-650-543-4800.
Let's proceed for more information!
How to delete Instagram using the Android app?
Follow the given procedures to delete Instagram using the Android app:
Sign into your Instagram account
Click the "hamburger menu" icon
Choose "Settings & Privacy"
And then, go to the Accounts Center page
Hit "Personal Details"
Select "Account Ownership and Control"
Press "Deactivation or Deletion."
Choose a Profile
Select the "Delete Account" option
Tap the "Continue" button
Choose a reason to delete an account
Click Continue> Continue to confirm
Enter your password
Re-enter it again
Select "Continue"
Lastly, click the "Delete Account" option
After following these steps, you can contact the Instagram customer support team if you cannot delete your account. You can connect with them through Instagram's online help center or by phone at 1-650-543-4800.
How do you delete Instagram using an iPhone?
Using an iPhone, follow the steps to delete an account:
On your iPhone, open the Instagram app
Log into your account
Click the "menu" icon
Tap "Settings" and then "Account."
Scroll down and choose "Delete account."
Scroll past and tap on the "Delete account."
Hit the "Continue deleting account" option
Choose "Why do you want to delete your account?"
Re-enter your password
Lastly, hit the "Delete"
How do you delete an Instagram account on the web?
Your account cannot be deleted immediately; it lives for 30 days. But, during that time, no one can view your Instagram publicly. Use the below steps while browsing the platform through a mobile web browser or computer.
Go to the Instagram homepage
Tap the hamburger button
Hit Settings and then Personal Details
Under Account Settings, click the Personal Details option
And then, press Account Ownership and Control
Click Deactivation or Deletion
Select the profile for deletion
Choose Delete account and hit the Continue button
Type your account's password and press Continue
Select a reason for account deletion and hit Continue twice
To finalize the process, press the Delete Account option
Deleting vs Deactivating your Instagram account
There are two options for managing an account: one is deleting, and another is deactivating. If you don't know which one you choose, below is a breakdown of each option, saying which is the most suitable.
Deleting your Instagram Account
Deleting an account permanently removes it from the platform with all comments, likes, followers, photos, and videos. However, it is irreversible except during the 30-day grace period. To rejoin the platform, you must create a new one.
Deleting your account is best when:
You no longer want your Instagram presence: If you don't want to use the platform anymore, this is the best reason. Deleting an account removes all your data and activity from the platform completely.
You're concerned about privacy: Deleting your account is also the best choice if you're concerned about the security of your personal information.
Deactivating Your Instagram Account
Deactivating your account turns it off temporarily by making your profile invisible to other users. Your data remains perfect, but your account cannot be accessible until you activate it.
Deactivating your account is best when:
You're taking a break: Deactivating an account is the best if you need a break and want to return to Instagram. Deactivating lets you step away without losing your content and followers permanently.
You want to maintain privacy: If you want to decrease your digital footprint temporarily, deactivating provides privacy while protecting your data.
Conclusion
That's it! You can easily delete your Instagram account using the above steps or procedures. Deletion of the account is possible on iOS or Android, desktop, etc. Moreover, if you still have questions or concerns while deleting an account, you can write in the comment box below.
FAQs
How do I delete my Instagram account in Mobile?
Go through the below tips to delete your account:
Open your Instagram account
Go to the Edit profile
Scroll down and choose Personal Information settings
Click Account Ownership and Control
Lastly, choose the Deactivation or deletion option
Why can't I delete Instagram from my phone?
If you're using the mobile app, you cannot delete your account. You can only delete your Instagram account from your Mobile or desktop browser.
How long can I deactivate my Instagram account?
Instagram accounts can remain deactivated forever. Thus, you can only deactivate an account temporarily once per week.
---