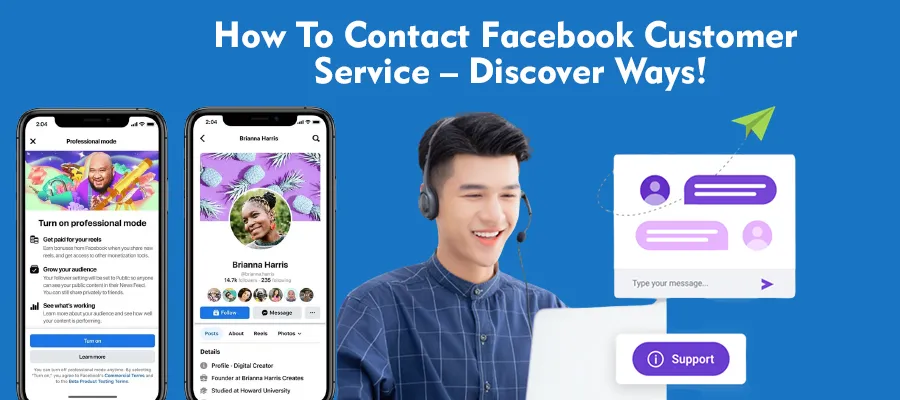 How To Contact Facebook Customer Service – Discover Ways!
Web, chat, and phone – all the three options are available for Facebook help. So, for your issues on Facebook, choose any of the given options and try connecting with Facebook support immediately.
Unfortunately, you don't get a direct option to contact Facebook except the help center to some extent. It is just that you should know which option needs to be chosen so that your issues get resolved.
Facebook is a popular social media app that needs no introduction. It is one of the most used social media apps for business and personal use. In such a case, users look for help, but not all get it on time.
The reason is simple: Lack of awareness about ways to contact Facebook.
This write-up will provide you with multiple options to contact Facebook customer service.
 Why To Search For Facebook Customer Service Help
Facebook has many features; some are known, while others are hidden from people. When we use Facebook, it is expected that we come across various issues. The reason might be different. It could be network issues, server issues, theft, fraud, etc.
Whatever it is, you will want to resolve the query as soon as possible.
For that, you need Facebook Support. Knowing how to establish a connection with Facebook becomes necessary because of the rising security threats. You should know how to protect your account from them, and Facebook support is your go-to option.
Facebook customer service understands the problem that a normal human being cannot. They practice solving it in the best way, in less time and effectively.
With all of these reasons, we reach to the conclusion that why Facebook customer service is helpful.
How Do I Contact Facebook Directly?
When you need immediate help from Facebook's end, you should know how it is possible. There are limited options when it comes to direct Facebook help. Users can opt for Facebook phone numbers and help centers for the purpose.
To find help from help center, visit help center page. There you need to search for your query using the search bar at the top of the page. Please type your question or navigate it from pinned doubts under the search bar. Choose from the issue category and read a solution blog to resolve the query.
Regarding phone support, Facebook has its Palo Alto area numbers (650-543-4800 and 650-308-7300) that give recording. Hear that and follow instructions given on call.
 How To Contact Facebook Customer Service
Many options can reach Facebook customer service. Each one is different and has a different time to respond to your query.
1.      Help Center:
To contact help center, you should follow these steps:
Log into your Facebook account
Tap the profile icon.
After choosing a profile, select the 'help & support' icon.
Now, you can choose your issue category and get help for your query.
2.      Phone:
When dialled, Facebook has a prompt-based phone number that will provide instructions to get onto the help center page. Using a phone can be a quicker option for you to find solutions.
To call at Facebook, you need to dial 650-543-4800 and 650-308-7300.
3.      Email:
To find help with Facebook queries, you have email support, which you can choose specifically as per the issue you have been facing on Facebook.
We have provided the email list. You can choose as per your need:
Contact through email when your account is disabled. Write at disabled@fb.com.
When you need help with Facebook ads and promotions, write to platformcs@support.facebook.com.
For media inquiries and press, write press@fb.com.
To contact Mark Zuckerberg by email, write at MZuckerberg@fb.com or zuck@fb.com.
If you want to report scams or phishing attempts, write to phish@fb.com.
When you are with law enforcement, write to legal@fb.com
4.      Online Live chat:
The live chat option is limited to business pages only. However, it is rolling out for US users when they get locked out on Facebook.
Through online live chat, one can communicate their concerns, especially about Facebook ads.
The one-on-one interaction makes it easy to communicate and provide solutions.
To contact Facebook live chat, visit the chat support page. Then, tap Facebook for business website and tap 'get help' icon.
5.      Contact Forms:
It is another option people use to file their queries with Facebook. You choose issue-specific forms and submit them with all the information. Now, this will reach Facebook and they will revert you back with necessary solutions.
The list of Contact forms is here:
| | |
| --- | --- |
| Issue Description | Facebook Help Link |
| Trouble with payments, donations, and game purchases | Link |
| Email address already taken during sign-up | Link |
| Missing content after reactivating your account | Link |
| Report a user as deceased or medically incapacitated | Link |
| Request information from a deceased person's account | Link |
| Give feedback about a Facebook product or feature | Link |
| Report an underage child on Facebook | Link |
| Report a convicted sex offender on Facebook | Link |
| Report a privacy violation (your or your child's) | Link |
| Report a copyright infringement | Link |
| Report a trademark infringement | Link |
| Get support for fundraisers or donations | Link |
| Report a bug as a developer | Link |
| Report a "Page Unavailable" error | Link |
| Group or event is unavailable | Link |
Does Facebook Have 24/7 Customer Service Number?
You can seek out help from Facebook customer service around the clock. You can call any time on the given Palo Alto Area numbers and get valuable assistance.
After connecting, you will get to hear prompts on call. Follow them to find the solution to your query on Facebook.
Final Words
When you are having tough times with your Facebook account, you will want to know How To Contact Facebook Customer Service. For any query you find on Facebook, a solution is at Facebook support help. All you need to know is how to connect with them and find quick resolutions. This blog is created to serve you better regarding Facebook support help.
---